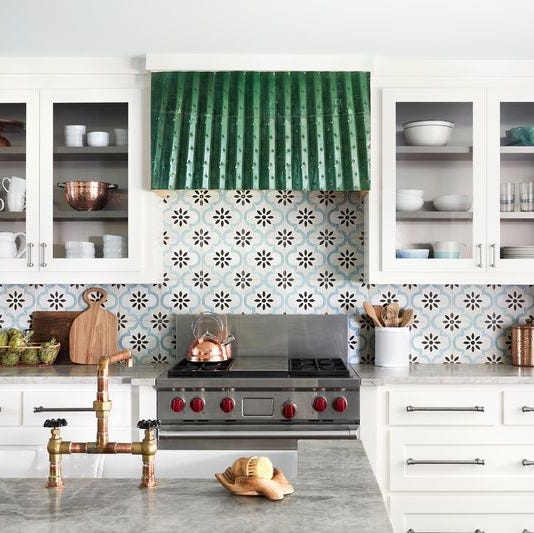 If you've ever tackled a kitchen renovation, you know that deciding on the right backsplash is far from easy. There's so much to consider, from your budget to an easy-to-clean material to the size of your space. But believe it or not, that doesn't mean you have to sacrifice style. With a bit of patience and a willingness to step outside of your comfort zone, you can find the perfect backsplash tile to add visual interest to your cooking area.
Here, we've rounded up 20 of our favorite kitchen backsplash ideas, perfect for small spaces, budget-conscious design lovers, and more.
1 of 20
Rustic White Panels
Bright white wood panels, which are also used on the ceiling, give this rustic kitchen a cohesive look.
2 of 20
Chic Chevron
A trendy blue-and-white chevron backsplash blends seamlessly with this kitchen's gray tones.
3 of 20
Subway Tile
A white subway tile backsplash balances this kitchen's deep gray cabinets and wood island.
4 of 20
Playful Pattern
A playful backsplash pattern, boasting a blue-and-white palette, steals the show in this kitchen.
5 of 20
Kelly Green
Glossy green tiles add a modern touch to this traditional kitchen, featuring white cabinetry and dark wood flooring.
6 of 20
Watery Blue
A backsplash, featuring watery blue tiles, plays up the beach vibe in designer Erika Ward's kitchen.
7 of 20
Bright and Airy
In chef Katie Lee's Hamptons kitchen, a soft blue tile backsplash complements the white cabinets and the sunny view.
8 of 20
Modern Print
Patterned tiles, along with a salvaged airplane part as a vent hood, bring a dose of drama to this kitchen.
9 of 20
Neutral Marble
Marble tiles add texture and draw the eye up to the ceiling in this elegant neutral kitchen.
10 of 20
Pop of Mint
High-gloss mint green tiles create a dramatic focal point in this white kitchen.
11 of 20
Classic Marble
A mix of attractive neutrals, including marble subway tile, make for a charming kitchen design scheme.
12 of 20
Checkered Look
This airy beach house kitchen benefits from graphic backsplash tiles, archway cutouts, and pretty pottery.
13 of 20
Luxe Neutrals
A neutral circle pattern, brass accents, and an ornate pendant add to this kitchen's high-end look.
14 of 20
Geometric Tiles
To bring contrast to this kitchen's daring cabinets and counters, Caitlin Murray of Black Lacquer Design opted for a modern geometric backsplash.
15 of 20
Soothing Gray
Mini tiles lend a sophisticated flair in this kitchen, complete with a subdued neutral palette.
16 of 20
Glossy Finish
Thanks to high-gloss blue tiles, this compact kitchen is filled with style and personality.
17 of 20
Glam Emerald
Emerald-colored tiles play off of this cozy kitchen's potted plants, while white cabinets and wood shelving add to its charm.
18 of 20
Salvaged Wood
Planed salvaged basketball court floor boards make for a striking backsplash in this kitchen designed by Grace Mitchell of HGTV's One of a Kind.
19 of 20
Pale Wood
Light-colored wood panels give this retro-style kitchen a cocoon-like feel.
20 of 20
Textured Beauty
Not only does this kitchen's cream cabinets add to its fun vibe — a textured silver backsplash gives it a contemporary feel.
Advertisement – Continue Reading Below
This content is created and maintained by a third party, and imported onto this page to help users provide their email addresses. You may be able to find more information about this and similar content at piano.io